As businesses start to reopen, we can expect to see many changes in how the office place looks and operates. Over the last several years we have seen less of the traditional cubicle setup and a more open office environment. With physical distancing seeming here to stay many companies are having to rethink ways to reduce the density of the office space.
The Thought Behind an Open Office
There are many reasons the shift towards the open office became popular, but arguably the biggest reason was to promote more face to face collaboration among teammates. Companies wanted people to work closer together, thinking that this would lend to better ideas and higher productivity. There have been many opinions on both sides of this thought process and many companies that originally went to the open floor plan have started shifting away even prior to the Pandemic.
The New Way of Thinking
The recommendations from the Centers for Disease Control and Prevention (CDC) push for moving away from the previously values face to face collaboration. We all know social distancing has been a key phrase over the past few months and the promotion of 6 feet away is part of our daily lives. Most employers are now taking those thoughts and putting them in place.
Many of those open office plans have now bee retrofitted to put a barrier between employees. Plexiglas partitions have been placed on many of the open workstations as well as staggering people, so they are not sitting next to each other. They are also staggering when people work.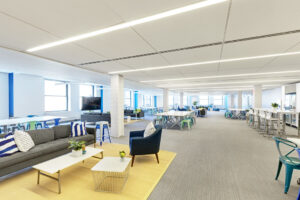 Not All Believe This Way Though
There are many that believe the open office spaces are not going away. While there can be a debate about the productivity level of an open floor plan versus the traditional workstation setup, there can be very little debate about open floor plans are much easier to clean. The open spaces give easier access to surfaces as well as reduces the number of surfaces. Think about the amount of hands that touch a cubicle panel at the opening or the top when people are looking over and talking. In an open floor plan, you do not have that. Even office door handles are continually touched by many different people.
So, while the traditional office layout may be a better option for many of the CDC guidelines it may however, make it worse from the contact spread of germs. The key to preventing the spread of any germs through the air in an enclosed space is proper ventilation.
The Signs are Everywhere
No matter if an office has an open plan or a more traditional plan the education of employees is the key to reducing the spread of COVID-19 and any other pathogens. We are a society used to seeing signs and the workplace is no different. Place signs and stickers to remind employees of proper workplace etiquette. Companies must communicate and be completely transparent with employees as well as guest. Think outside of the box when it comes to social distancing in the workplace and open to options that may have been previously unheard of.
The workplace cannot stay closed forever and in order so embrace change. In this ever-evolving world we live in now only time will tell what will stick and what will be temporary. Just understand that for the near future know that business as usual will be anything but usual.