So, you are moving your office? This is an exciting time, as you are out with the old and in with the new. It cannot also be an extremely stressful time. The process is not easy and once you start time is of the essence to you do not have too much downtime. No matter what the size of your company, a move is a large undertaking. Trying to navigate through the waters without a plan can lead to a disaster. These tips can give you a guideline that can help this task run smoother.
1. Plan Early
It is July now and you are not moving until next March. You might think you have plenty of time. Before you know it, March will be here, and you will wish you started planning your move earlier. Give yourself a minimum of four months to plan your move. Evaluate what your needs are and start assigning those tasks. You do not want February to come and you are scrambling to make sure everything is covered.
So, you have everything planned and assigned to move out of the old space, what about the new space. Make sure you have a diagram and have assigned where the items from the current office will be placed in the new. If you are getting new furniture the dealer you are buying from will have a designer help with that. If you are not buying new furniture, then hire a designer to help you lay everything out, so it fits for an efficient office space.
2. Assign a Project Manager
There must be a point person. Even if all the tasks are being divided up you still need a person to stay on point and make sure all details are being covered and completed on time. This person should also be the point of communication to the employees on project updates. If you do not have a project manager then assign someone that has excellent organizational skills and can keep things on task.
3. Develop a timeline
Once a move date has been established the project team and manager should assign dates for when each task should be completed. Break out each task and assign when it needs to be completed by. This will help keep the project moving and the final move stays on track. Add a buffer for any technical or unforeseen issues that could come up during the project.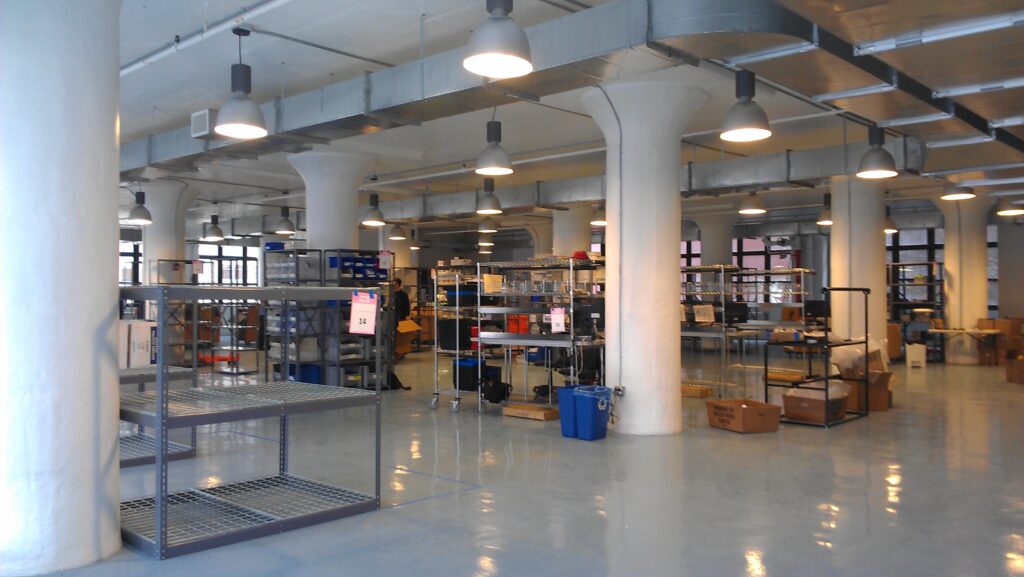 4. Hire a Moving Company
Do your research and get quotes from at least three different companies. Office moves can be very expensive, if you are upgrading your furniture make sure to work with a moving company that uses a liquidator. National Office Wholesale works with several moving companies to get the most return on customers furniture. Our unique approach typically returns a higher yield on their customers used furniture.
If you are unsure on movers, you can reach out to us for recommendations or you can check with the property manager of the building you are in. The property manager will have several recommendations for you that they are familiar with.
5. What are you Doing with I.T?
This will be one of the biggest obstacles during a move. Make sure to get your IT person involved earl and see what the needs are. Backup data and purge old electronics. Once the move date is established have your IT department prepare a plan for transferring the equipment and servers. Most of the time this is outside the realm of what the movers responsibilities are, so make sure you have allocated enough resources to this task as it can end up being the road block for the entire project if not planned properly.
6. Plan the New Space
Make sure the new office is planned out. Know what furniture is going where and who is sitting where. Have a designer or engineer prepare a CAD drawing with everything in place. Having everything mapped out not only gives you a plan during the move but helps the employees stay engaged and excited about the new office.
7. Communicate to Outside Sources
Make sure your customers, the mail, and delivery companies know about your move. Start updating documents with the new address before you move. You do not want to be bogged down with chasing down mail and deliveries after the move has taken place.
8. Plan Downtime
Ideally companies do not want any downtime. However, it is likely there can be a small amount of downtime with a move. Plan this out and communicate. Plan your move over the weekend to minimize the amount of downtime that may occur. In the age of COVID we already have many employees working from home, so if having some employees working from home during the move can reduce or eliminate any downtime then that is an option that should be explored.
The list could go on and on and still miss many tips. A move is a big job, but by doing some basic things it can minimize the headaches that can come from a move. Once you have moved, enjoy the new digs. Change can be good, so embrace it.