Go Green & Give Back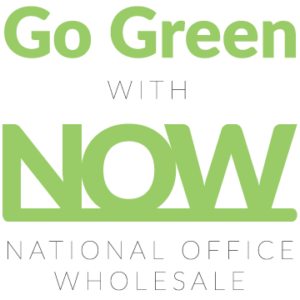 Tons of Furniture Kept Out of Landfill
We believe that all companies have a responsibility to consider our planet when deciding how to conduct their businesses. At National Office Wholesale (N.O.W.) we are committed to re-purposing as much used furniture as possible, keeping many tons from piling up in landfills. While our business is to sell as much of it as possible, when we cannot find buyers for certain items, we take that extra step to try to find homes for them through worthy charities who can use them, such as Goodwill or the Pencil Foundation. We appreciate your interest in our work, and hope that you'll support theirs too. If you want to know more about how you can help, go to these links: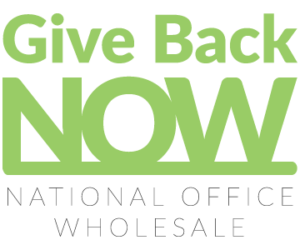 We believe that true success is not about what we get, but more about what we give, and that helping others is a task best taken on by our citizens and the companies that enjoy the opportunity for success that we have in this country. At National Office Wholesale, our leadership is pleased to support these, and other important organizations that are committed to making our world a better place.
Wounded Warrior Project
For over 200 years, the men and women of the United States Armed Forces have fought for the freedom and opportunities we enjoy. Unfortunately, some never get to come home to enjoy those freedoms for themselves, and many others come home with serious, often permanent injuries that can limit their ability to take advantage of the very opportunities they fought to preserve. At National Office Wholesale, we believe these men and women deserve every assistance we can give them to get back on their feet, and we are proud to donate monthly to this cause. - If you would like to help, please click on the Wounded Warriors Project logo to go straight to their site.  
St. Jude Children's Hospital
Finding cures. Saving children. ®
What better purpose could there be than saving children; the most innocent of us all, and the future of our world? At National Office Wholesale, we are proud to donate monthly to this important organization, where money and insurance coverage do not determine a child's ability to receive life-saving treatment, and  their families never receive a bill.
Please consider joining the cause, and click on the St. Jude's logo to offer your contribution.
JOY Church
Our ownership and leadership team and National Office Wholesale believes that faith in something greater than ourselves, is an important part of having a happy and fulfilling life. We believe faith is not about religion, but about a relationship with a kind and loving God. We have chosen JOY Church in Mt. Juliet TN as our home in faith. JOY Church is a non-denominational, non-judgmental Christian church with a mission of outreach to all people.
If you would like to learn more about JOY Church and its local and international outreach efforts, please click on the logo. 
Eagle Express Soccer Club
Youth Athletics can be an important part of growing up. When involved with the right organization, it teaches social skills, leadership, teamwork, fitness, and confidence. There are even studies that show that kids who are involved in youth athletics tend to do better in school, and are more likely to stay out of trouble.
Soccer, often called "The Beautiful Game", is the #1 sport in the world, and is growing in the United States at an incredible pace. There are many great clubs available in the Nashville area (home of National Office Wholesale), so finding a club with great developmental opportunities isn't hard to do. However, playing a sport at the "travel" or "select" level can be very expensive, preventing many deserving kids the chance to develop to their fullest potential. That's why we we support Eagle Express Soccer Club!
Eagle Express is based in Hermitage/Mount Juliet TN, and is a not-for-profit club that is dedicated to youth development in the sport, AND to keeping the costs down so that all players in the area with the passion for the game, and the potential to grow to a high level, have the opportunity to pursue their dream. As the owner of National Office Wholesale, my personal experience with the club since 2010 has been exceptional, as I have watched both of my sons thrive in the game they love, as a result of the club's leadership, philosophy, and great training and developmental opportunities.  - If you would like to become a donor or sponsor, please click on the logo, and reach out!